1953-54 Sycamore baseball
2014 WSHF inductee
<![if !vml]>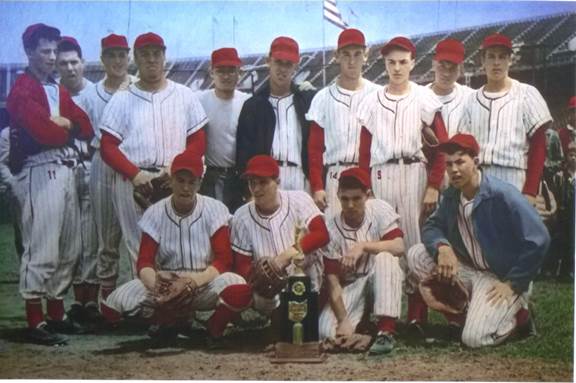 <![endif]>
Kneeling from left: Leon Shell, Vaughn Shell, Jerry Hosterman, Danny Bogard;
Standing: Donnie Hannam, Ronnie Miller, Francis Tschanen , Wayne Niederhauser, coach Henry Roberson, Bill Gingery, George Noggle, Jerry Everhart, Lester Bell and Ronnie Reed.†††††††††††††††††††††††††††††††††
Missing: Marlin Weaver, Gene Von Blon and managers Dick Ekleberry and Donnie Grandstaff.†††
††††††††††† The 1953-54 Sycamore Wildcats baseball team finished as state runner-up in Class B in 1954, going 20-1 with a 2-1 loss to Waverly in the state championship game.
††††††††††† In that game, Sycamore was up 1-0 going into the bottom of the last inning before Waverly with one out scored two runs to win the championship. The winning run was scored on a squeeze bunt.
Coached by Henry Roberson, The Wildcats had three different pitchers throw no-hitters and pitched 13 shutouts. Sycamore defeated Salem Local, 4-0, in the state semifinals, sparked by a Leon Shell home run.
The teamís undefeated regular season was played in the months of September and October with the last game an 11-0 no-hit win with Vaughn Shell pitching and twin brother Leon catching.
The team was led by Don Hannam, who played shortstop, was drafted as a pitcher by the Detroit Tigers, batted .468 and threw two no-hitters. Leon Shell, usually the teamís catcher, threw two no-hitters and batted .333, while third baseman Vaughn Shell also hit .333 pitched four no-hitters and was signed by the New York Yankees.
First baseman Dan Bogard scored more than 2,000 points in his basketball career and second baseman Jerry Hosterman and shortstop/third baseman George Noggle both batted .500. Noggle also pitched.
In the outfield for the Wildcats were Marlin Weaver, Gene Von Blon and Wayne Niederhauser in left, Jerry Everhart and Marlin Weaver in center and Ronnie Miller and Lester Miller in right.
In district tournament games, Sycamore defeated Kalida, 7-3; Liberty, 16-0; Whetstone, 6-0; and Nevada, 13-1. The district final game was close until an 11-run final inning by the Wildcats. Sycamore topped Lima St. Rose, 3-2, in the regional semifinals and Deshler, 6-2, in the regional finals.
Many of the same players also were on the basketball team that was 27-0 before losing in the district championship game, 46-45, to Huron the winter before. Those Wildcats averaged 80.2 points per game.