1955 Upper Sandusky football
2016 WSHF inductee
<![if !vml]>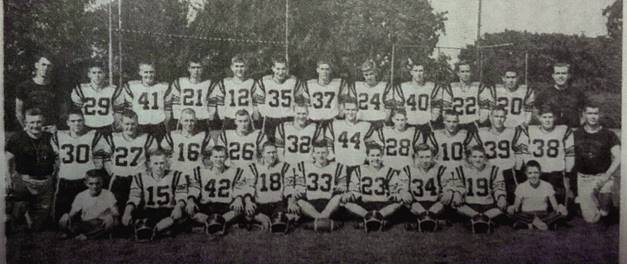 <![endif]>
Under head coach Leo Strangís leadership, the Upper Sandusky 1955 football team had one of the most fabulously successful seasons in Rams history, going undefeated in nine games while outscoring opponents 329-89.
The Rams had two shutouts, beating Willard, 34-0, and most impressively, higher-ranked Shelby, 19-0. Another key victory in the season was beating Bellevue, 25-12.
Upper Sandusky finished ranked ninth in the state poll, the highest rating an Upper Sandusky football team has ever achieved. Upper Sandusky won the Northern Ohio League title that year and did not win another one for 48 years.
The 27 players on the varsity team were led by the 14 senior lettermen. The 14 young players on the 1955 reserves team finished 5-1.
Co-captain and quarterback Dave McClain was named the NOL Back of the Year, leading the Rams with 95 points and 12 touchdowns. He earned first-team All-Ohio honors, throwing for 500 yards and rushing for 729 more.
Fellow co-captain Dennis Gerber was the teamís wingback, finishing with 1,189 yards rushing and 14 touchdowns, earning him honors as captain of the All-NOL team and third-team All-Ohio status.
Another running back, Dan Patchett finished fourth in the NOL in scoring, racking up 486 yards rushing and 12 touchdowns. He averaged more than 10 yards per carry. Halfback Roger Boyle was one more offensive weapon for the Rams, scoring five times while averaging 6.5 yards per carry.
Strang always gave a great deal of credit for the highly successful football season to his excellent coaching staff, composed of assistants L. V. Ebenback, Donald Drebus and Fenton Wolfe.
The 1955 football team was the first and remains the only team to be inducted into the Upper Sandusky High School Athletic Hall of Fame, earning that distinction in 2003 when the Rams won their only league championship since 1955. Three grandchildren of the 1955 team played on the 2003 team.
| | |
| --- | --- |
| <![if !vml]><![endif]> | <![if !vml]><![endif]> |
| <![if !vml]><![endif]> | <![if !vml]><![endif]> |
| | |
| | |