1968 Riverdale football
2015 WSHF inductee
<![if !vml]>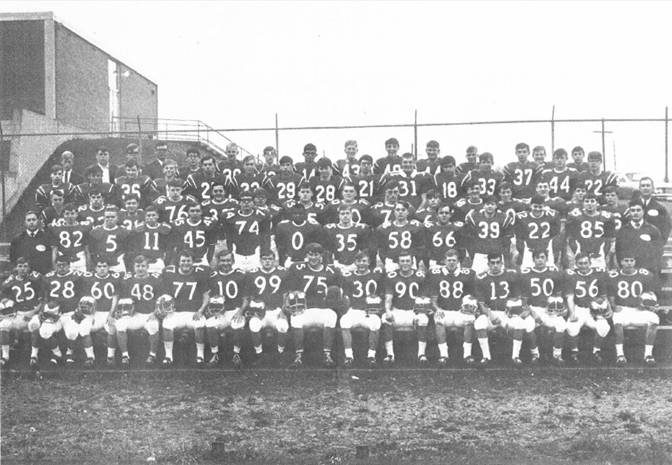 <![endif]>
The 1968 Riverdale football team finished 10-0 and was ranked seventh in the state in a time when there was only two divisions.
The Falcons outscored opponents 326-64 and outgained them 3,939 yards to 1,725 on the year.
Senior John Altman was All-Ohio and named the lineman of the year. Senior Steve Trout earned first-team All-Ohio honors as a defensive back, and senior end Rusty Young and senior tackle Bob Wigle both were All-Ohio honorable mention. Numerous other players earned All-North Central Conference recognition.
Key victories for the Falcons came in back-to-back weeks when they defeated Carey, 7-6, and then Pleasant, 21-20. The only other close game came later when they defeated Mohawk, 26-20. The next-closest game was a 22-0 victory against Kenton to conclude the season. The Blue Devils led the Falcons, 6-0, when quarterback Trout ran in a 34-yard touchdown and kicked the extra point with 7:34 remaining. Riverdale also came from behind against the then-undefeated Spartans, with Ron Schoenberger scoring on a 17-yard run with 6:18 left. Don Stephan's two-point conversion run gave Riverdale the lead and ultimately the win.
The Falcons ran the ball for their offensive success, totaling 3,297 yards on the ground with 165 first downs and 48 touchdowns. Trout led Riverdale and was third in the NCC in scoring with 80 points, while Stephan was fifth in the league and Pat Weber sixth with 60 and 58 points, respectively.
Opponents managed only 1,553 yards rushing, 76 first downs and 10 touchdowns on the year. Riverdale's defense shut out five foes and held two others to just six points, giving up a total of just 64 points on the year.
Altman, Trout, Young, Wigle and Weber all were first-team All-NCC selections, while junior tackle Steve Cole and junior end Troy Kear both earned All-NCC honorable mention.
After ranking has high as fifth in the United Press International Class A Poll, the Falcons finished seventh with one first-place vote.