1975 Carey football team
2013 WSHF inductee
<![if !vml]>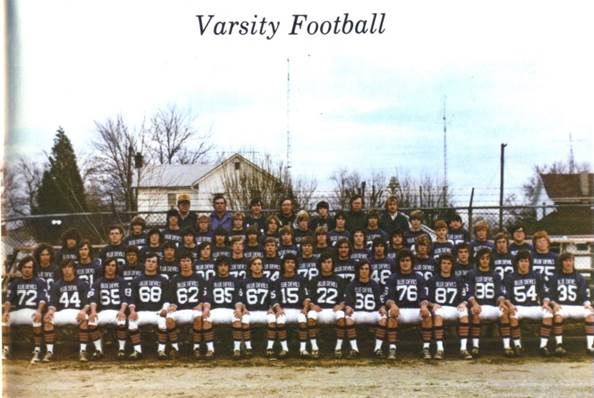 <![endif]>
            The 1975 Carey High School football team is the only state champion in school history and Wyandot County's only football state champion. With their Class A title, the Blue Devils became just the second Wyandot County champion in any sport, following the 1954 Nevada High School track and field team.
            The Blue Devils won their first North Central Conference football championship that year, going 8-1. Despite the one loss to River Valley, Carey finished first in the region computer rankings, qualifying as the northwest region's representative at a time when there only were three divisions.
            In the state semifinals, Carey edged Burton Berkshire, 26-24, after falling behind, 16-0. The Blue Devils scored the go-ahead touchdown with 8:12 left in the fourth quarter to reach the championship game.
            The Blue Devils won the title game, 15-7, against Newark Catholic in the state playoff's first overtime game at the University of Akron's Rubber Bowl. Prior to the game, Newark Catholic had not given up an offensive touchdown all season long.
            After a scoreless first half, Rich Frederick's diving fumble recovery set up a 1-yard touchdown run by quarterback John Greer to give Carey a 7-0 lead. Newark Catholic tied it four minutes into the fourth quarter and the teams went to overtime.
            Carey received possession first in overtime and scored on the first play with a 10-yard touchdown pass from Greer to tight end Dennis Kessler for what turned out to be the championship-clinching touchdown. The Blue Devils converted a fake kick for two points, putting pressure on Newark Catholic to score and converted a two-point play. Newark Catholic gained just 2 yards on a first-down running play and then threw three straight incompletions, giving Carey the title.
            Coached by Thomas Geschwind, the Blue Devils went just 2-7 the season before. They had only one player starting on both offense and defense. Encouraging his team to "keep stroking,'" Geschwind was voted the Northwest District Coach of the Year and accepted the award on behalf of his staff, Ed Hotelling, Nick Long and John Raymaley.