2003 Mohawk softball
2018 WSHF inductee
<![if !vml]>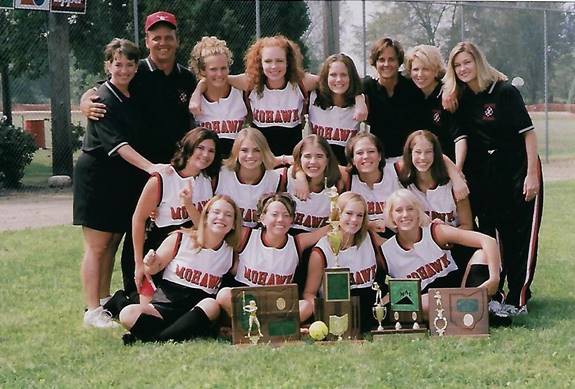 <![endif]>
The 2003 Mohawk softball team won the school's first ever state championship by taking the Division III title with a 6-1 victory against Convoy Crestview to cap a 31-1 season.
Mohawk had topped Rootstown, 5-0, in the state semifinals. Coached by Jenny Weinandy, the Warriors were led by junior Aubrey Walton, who finished the year with a 24-0 pitching record and went on to win a state-record 43 consecutive decisions. The team's offense also was potent, finishing with a state-leading and school-record 355 hits, led by sophomore Christa Coppus with 60, also a school record. Freshman Calli Coppus finished with 55 hits.
Christa Coppus hit both a left-handed and right-handed home run in the same game, and Calli Coppus had a 27-game hitting streak. Christa set a school record for RBIs with 47 and also held the school record for batting average in a season for her sophomore year at .520.
Mohawk's only loss came in the fourth game of the season on a cold, snowy Saturday on April 5, playing a doubleheader at Loudonville. The Warriors won the first game, 1-0, but dropped the second game, 6-0.
As younger players, Mohawk's team members played on competing summer league teams in McCutchenville, Melmore and Sycamore, but in high school, they came together to play as the Lady Warriors. Coach Weinandy said when on the field they had a connection with each other, they had respect, and they had power and a drive to win.
Team members included Hana Mohrman at catcher, Walton at pitcher, Calli Coppus at first base, Danelle Kirian at second base, Amanda Karcher at third base, Christa Coppus at shortstop, Jodi Calmes in left field, Kim Lust in center field and Kristyn Tooley in right field. Other outfielders included Kari Bloom, Elise Pfefferle and Jenny Carper.
Assistant coaches to Weinandy were Tim Davidson, volunteer Amy Hosterman, junior varsity coaches Amy Kozel and Shana Price, statistician Becky Lust and athletic director Lisa Zellner.