Amber Rall
2014 WSHF inductee
<![if !vml]>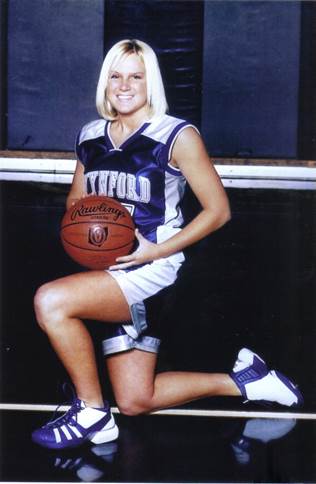 <![endif]>
Amber Rall, a graduate of Wynford High School in 2003, is a 10-time All-Ohioan in basketball and track and field, earning a combined 12 varsity letters, including four in volleyball. During her eight years of high school and college basketball, she scored more than 4,200 points. She led the Wynford basketball team to the final four in 2003 and to two North Central Conference championships. As a senior, she was named first-team All-Ohio by the AP and player of the year by the Ohio High School Basketball Coaches Association.
She earned second-team All-Ohio honors as a junior and third-team All-Ohio honors and scored a school record 44 points in the district semifinals as a sophomore. Rall still holds Wynford's  season record for points with 698, field goals with 143 and assists with 141. She still holds the record for most field goals in a career with 477 and her total career points scored at 2,167 currently is top 20 on the state all-time scoring list.
As a sprinter, hurdler and long jumper, Rall was an All-Ohioan in four different seasons, finishing 2003 with a state championship in the long jump with a torn hamstring. In 2002, she placed second in the 100 hurdles and third in the 100 dash. Then in 2001, she was second in the 300 hurdles and sixth in the 100 dash. In 2000, she placed third in the long jump and fifth in the 300 hurdles. She holds the Division III state record in the 100-meter hurdles at 14.25. She still holds the records at Wynford in the 100-meter dash at 12.2, 300-meter hurdles at 44.2 and the long jump at 18-4.75.
Rall in four seasons on the basketball team at Ashland University finished as the all-time scoring leader with 2,087 points. Rall was named to the first team of the All-Great Lakes Intercollegiate Athletic Conference in 2005, 2006 and 2007 and was freshman of the year in 2004. During her junior and senior years, Rall was the most valuable player for Ashland.
   At Ashland University, Rall earned her degree in physical education and currently teaches at Fairway Collaborative Preschool in Bucyrus.