David Kalb
2015 WSHF inductee
<![if !vml]>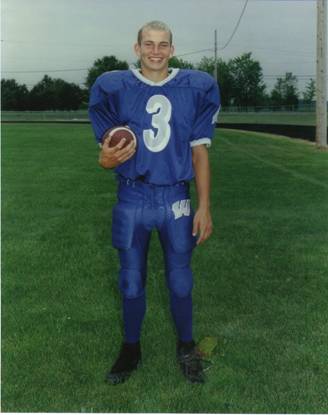 <![endif]>
A 2000 graduate of Wynford High School, David Kalb is the only athlete in the school's history to earn All-Ohio honors in three different sports - football, basketball and track and field.
A point guard, Kalb scored 1,037 career points with the Royals and was an All-Ohio third-team pick as a senior, despite missing games with an injury. During his junior year, he averaged 19.4 points per game and led the North Central Conference in scoring, assists and steals. He twice earned All-NCC and All-District 6 first-team honors and played in the Mansfield News Journal All-Star Game and the Ohio-Kentucky All-Star Game.
Upon graduation, Kalb went on to play one year at the University of Akron and two years at Capital University. As a senior, he was honorable mention All-Ohio Athletic Conference. In 2008, he gained recognition by beating LeBron James  in a trick shot challenge and twice in HORSE.
As a football player with the Royals, Kalb was an All-Ohio first-team defensive player his senior year and threw for 2,497 yards and 21 touchdowns, while rushing for another 17, in his career as a quarterback. As a safety, he had 13 interceptions in his career, including nine as a senior. Kalb also placed fifth in the state in the 300 hurdles his senior year after also qualifying for state in the event as a junior and still holds the school record of 39.89.
Kalb graduated from Capital with a degree in communications-radio, TV and film, and now lives in Huntington Beach, California, where he is an accounts manager with a warehousing firm. He competed in the Super Kung Sheung Cup International Basketball tournament three times and was the MVP in 2010 as his team won the championship. Kalb appeared on Spike TV's "Pros vs. Joes," competing against former NBA stars, and his trick shots YouTube channel has been featured on multiple TV shows.