Hank Hemmerly
2016 WSHF inductee
<![if !vml]>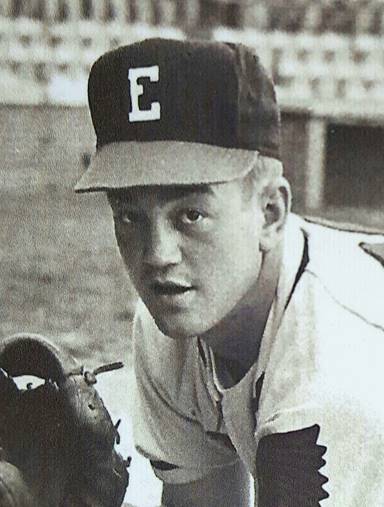 <![endif]>
A 1953 graduate of Forest High School, the late Hank Hemmerly was born in Wyandot County and lived there during his youth before excelling in football, basketball and especially baseball, where he played professionally as a left-handed pitcher as high as the AAA minor league level.
Hemmerly's professional baseball career began when he and his father drove to Piqua for a Cincinnati Reds tryout camp. He was signed by the Reds the next year, beginning at Fort Walton Beach, Florida. During one game in the 1955 season, Hemmerly struck out the Alabama-Florida League-record of 20 batters.
In 1956, Hemmerly moved on to the Milwaukee Braves organization, playing for the Lawton (Oklahoma) Braves, posting his most successful season to date, going 18-9 with a 2.97 ERA while leading the team in strikeouts. He was promoted to the Class B Illinois-Indiana-Iowa League Evansville (Indiana) Braves the next year and earned his first All-Star selection, finishing the year with a 15-8 record, 2.36 ERA and 121 strikeouts.
Hemmerly played the 1958 season for Class A Jacksonville and threw a pair of one-hitters in the South Atlantic League. In 1959, Hemmerly moved on to Class B Cedar Rapids (Iowa) and again was an All-Star with a 14-10 record and 3.39 ERA. After a 14-8 season with the AA Austin Senators of the Texas League in 1960, Hemmerly signed a contract with Tops Bubble Gum for permission to use his photo for baseball cards if he made it to the major leagues.
In 1961, Hemmerly was 10-10 with a 3.32 ERA for Austin, and in the winter that followed, he pitched in the Nicaraguan League for its president. Advancing to AAA Toronto of the International League in 1962, Hemmerly struggled with a shoulder injury before giving up his baseball career.
In high school, Hemmerly also was a standout in basketball, averaging more than 20 points per game to earn all-county honors his junior and senior seasons. In football, he was a linebacker, punter and halfback who scored five touchdowns in one game.
Hemmerly was 79 when he passed away April 26, 2014 in Forest.
| | |
| --- | --- |
| <![if !vml]><![endif]> | <![if !vml]><![endif]> |
| <![if !vml]><![endif]> | <![if !vml]><![endif]> |
| <![if !vml]><![endif]> | <![if !vml]><![endif]> |
| | |