Kevin Babcock
2011 WSHF inductee
<![if !vml]>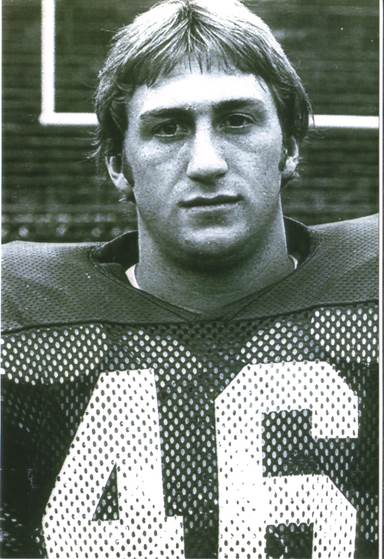 <![endif]>
Kevin Babcock competed in football, basketball, baseball and track at Mohawk High School from 1972-76, earning 10 varsity letters. He played football at Ohio University and became the schoolís all-time leading rusher and currently ranks sixth all-time with 2,614 yards and 13 rushing touchdowns. He was a first-team All-Mid American Conference running back for the Bobcats in 1978 and 1979 and went on to sign as a free agent with the Cleveland Browns in 1980. He is a member of both the Mohawk and Ohio University hall of fames.
At Mohawk, he earned first-team All-Ohio status in Class A in 1974 and in Class AA in 1975. He was an All-North Central Conference selection three times, and all-district pick twice and finished his high school career with 3,839 yards.
In addition, he was a second-team All-NCC pick one year and honorable mention selection in basketball, also earning honorable mention on the All-Northwest District team. He twice was an honorable mention selection on the All-NCC baseball team and also participated for the Warriors for one season in track and field, winning the league long jump championship. In the district meet, he took fourth in the long jump and fifth in the 220-yard dash, and is co-school record holder in the long jump at 20 feet, 11 inches. Babcock was named the 1975-76 Outstanding Senior Athlete Chaney Award winner.
For the Bobcats, Babcock started all 44 games in his career and was an AP honorable mention All-American in 1979 and also was an Academic All-MAC pick in 1979. He was the teamís leading rusher in 1977 and 1978, a co-captain during his senior season and graduated from the university in 1980.
Babcock currently resides in Liberty Township in southwest Ohio. He and his wife, Kelly, have two children, Shaun and Erin. Babcock is the business development manager for Vega Industries.
| | |
| --- | --- |
| <![if !vml]><![endif]> | <![if !vml]><![endif]> |
| <![if !vml]><![endif]> | <![if !vml]><![endif]> |
| <![if !vml]><![endif]> | <![if !vml]><![endif]> |