Michael Dennis
2019 WSHF inductee
<![if !vml]>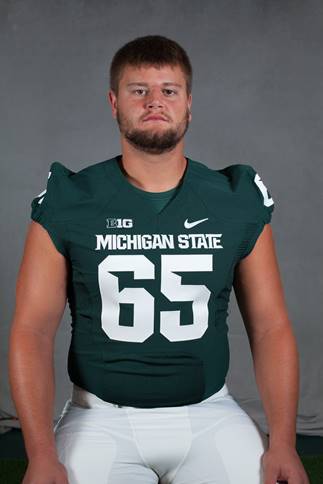 <![endif]>
Dennis, a 2010 graduate of Carey High School, was not easy to miss whether it was on the football field, on the hardwood or just walking down the halls of CHS.
Standing 6-foot-7, Dennis was a natural on the basketball court.            However, it was his innate ability to manhandle the opposition with his blocking skills that made him special on the gridiron. A three-year starter at Carey, he garnered recognition as one of the top-ranked offensive linemen in the nation coming out of high school. His talents caught the eyes of many recruiters and head coaches alike, including those of Michigan State University head coach Mark Dantonio and his offensive line coaching staff. 
Dennis went on to earn two letters during his time at Michigan State. He was an integral member of the Spartans' squad that posted a 24-20 victory over Stanford in the 2014 Rose Bowl after beating Ohio State in the Big Ten championship game. He walked away from college with one year of eligibility remaining but did so without any qualms.
Dennis' formidable frame served him well while leading the Blue Devils basketball team. He finished his days at his alma mater as a four-year letterman who scored a school-record 1,542 points – a mark that still stands today. His prowess on the hardwood earned him All-Ohioan honorable mention status as a junior.
The following season Dennis stepped things up a notch on the court and was given a spot on the All-Ohio third-team list his final season donning the blue and white, finishing with averages of 23.2 points and 12.5 rebounds per game his senior season.
He is a son of Michael and Denise Dennis. After returning from East Lansing, he lived in Cincinnati before returning to Wyandot County. He lives in Upper Sandusky and works for Kalmbach Feeds.