Mike Dasher
2011 WSHF inductee
<![if !vml]>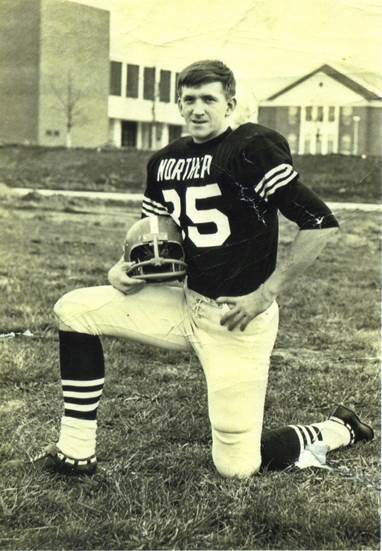 <![endif]>
Mike Dasher was a four-year letterwinner in track, football and basketball at Carey High School from 1960-64, winning most valuable player awards in all three sports. He set school records in the 120-yard hurdles, 180-yard hurdles and the high jump. Dasher went on to compete in football and track at Ohio Northern University and later served as a football and track and field coach at Carey High School.
Dasher was the leading scorer in all three sports his senior year of high school. He placed third in the high jump in the state meet as a senior and was named the Northwest Ohio Track Athlete of the Year by the Toledo Athletic Club. Shortly after graduation, he was the high jump champion in the National Junior Olympics.
He was a three-year letterwinner in football and four-year letterwinner in track and field at Ohio Northern and also played one year of basketball. Dasher was the leading receiver for the Polar Bears as a junior and senior, and was the track team MVP in his final three years recording a school record high jump of 6 feet, 9 inches.
Dasher was invited by the United States Olympic Committee to attend tryouts in Indianapolis and was invited to attend free agent camp by the Washington Redskins.
Instead, he went into a career of coaching, beginning with the track team at ONU in 1969. He also served two years as a track and football coach at Upper Sandusky High School, five years as boys basketball CYO coach at Our Lady of Consolation School, two years as fifth- and sixth-grade girls basketball coach at Carey Elementary School. In addition, he coached football, track and eighth grade girls basketball at Carey Junior High, four years of football at CHS and more than 20 years of track at his alma mater.
A member of both the Carey High School Hall of Fame and the Ohio Northern Sports Hall of Fame, Dasher was an initial member of the Carey Fest Board and served 18 years on the Carey School Board. He resided in Carey until passing away Jan. 10 of this year at the age of 64. He was survived by his wife, Marsha; and three children, Matthew, Allyson and Brian. He formerly worked as operations manager at Harris Corporation, Findlay.
| | |
| --- | --- |
| <![if !vml]><![endif]> | <![if !vml]><![endif]> |
| | |
| <![if !vml]><![endif]> | <![if !vml]><![endif]> |
| <![if !vml]><![endif]> | <![if !vml]><![endif]> |