Nick Mengerink
2015 WSHF inductee
<![if !vml]>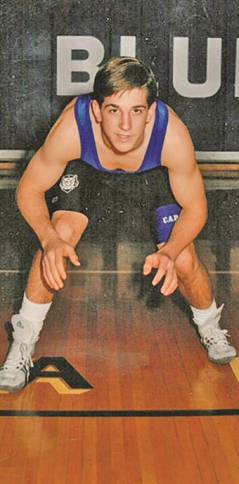 <![endif]>
Nick Mengerink, a 1996 Carey High School graduate, won consecutive state titles in wrestling during his junior and senior seasons, also being named the tournament's Division III Most Outstanding Wrestler after the victory his senior year.
The accolades were far from over as he won a national high school championship and earned a spot on the Academic All-America first team and a third-team placement on the Asics All-America unit.
These honors all came after he finished as a state runner-up as a sophomore, losing a 3-0 decision to Cincinnati Summit Country Day's Tommy Tye, also a two-time state champion. Mengerink ended his CHS career with a 136-9 record.
His athletic prowess was not limited to just the mat, evident by being a three-year starting safety for the Blue Devils football team. Carey advanced to the state semifinals before losing to eventual state champion Versailles.
Following graduation, Mengerink took his talents to the University of Pittsburgh, where he became an All-American as a redshirt freshman in 1998, finishing eighth at 167 pounds. He was named the Eastern Wrestling League's freshman of the year after ending the season with a 34-4 mark.
He returned to the NCAA Championships two more times during his stay and earn Academic All-America honors three times. He was named a team co-captain his senior year and recorded a 105-27 career record. The 105 wins placed him 10th on the school's all-time list when he left.
 Mengerink's athletic achievements were recognized one final time by the university when he was given the prestigious Panther Award, given to the top graduating senior male and female athletes. Other winners of the award include NFL Hall of Famers Mike Ditka and Tony Dorsett.
A son of Fred and Judy Mengerink, of Upper Sandusky, Nick currently lives in Grapevine, Texas, along with his wife, Melissa, and their two children, Skyler (9) and Maeve (5). He is a sales director for one of the leading manufacturers and wholesale distributors of optical lenses in the U.S.