Wilfred "Pearl" Osborn
2018 WSHF inductee
<![if !vml]>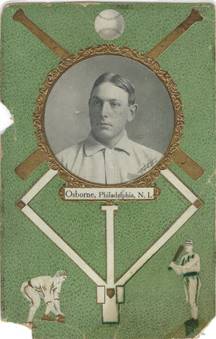 <![endif]>
Wilfred Pearl Osborn was born in a log cabin in 1883 on the dirt road outside of Nevada that over 30 years later would become known as the Lincoln Highway. His family eventually moved to Sycamore where he graduated from high school in 1901. During his days at Sycamore he was a member of the Sycamore town team but no one at the time probably dreamed how far he would make it in the national pastime.
In 1905, Osborn played for Class B teams Fort Wayne and Canton. The following season at Canton in 1906, Osborn finished the season with a .312 batting average, which earned him a promotion to the Major League level. Osborn joined the National League's Philadelphia Phillies in 1907 for his rookie season, ending the year with a .276 batting average.
The 1908 season was Osborn's career year. The Phillies ended the season in fourth place in the National League but Osborn's numbers were among the league's best. Of 150-plus players in the league, Osborn ranked 15th in batting (.267) 15th in slugging (.355) 10th in hits (148) and ninth in triples (12). Playing in the outfield, Osborn also was among the league leaders in assists, throwing out 14 runners trying to advance on the bases.
The following season, Osborn spent time between Philadelphia and its farm club in Rochester. After spending a total of three season in Rochester, Osborn fished his professional playing career with three seasons in Louisville, from 1913-15, where he was a fan favorite.
Upon retiring from the game, Osborn relocated back to Upper Sandusky where he and his brother operated the Bon Ton, a restaurant and bakery. Married in 1909 to the former Cora Shafer of Sycamore, he had three children, Neal and Janet, both deceased, and Sarah Jane Ulrich, currently an Upper Sandusky resident. Also are surviving are grandchildren Suzanne Osborn Stadnick, Boca Raton, FL; Carolyn Osborn Oakley, Tucson, AZ; Kathleen Osborn Harrington, Rancho Santa Margarita, CA; James Osborn, Marina, CA; John Osborn, Temecula, CA; and Ed Ulrich, Baltimore, OH. Osborn is buried in Oak Hill Cemetery outside of Upper Sandusky.